COVID-19 UPDATE (September 2021): We are currently following guidelines from the CDC, AAP, MDH, MSDE, and many music and vocal organizations. Accordingly, our COVID policies are as follows: Until further notice--We will continue to offer virtual lessons as an option. For our in-person lessons, we will be running fans and air purifiers with HEPA filters in all our lesson and class spaces, sanitizing handles and switches regularly, using individual rather than shared class materials, using hand sanitizer before touching common surfaces such as our studio instruments, and maintaining 3 feet of physical distance wherever possible with the students' ages. If anyone in a student's household has any COVID-19 symptoms, or if anyone in their household has been placed under quarantine for close contact, the student must choose a virtual or make-up option. Only the current student(s) may be present for private or partner lessons in the lesson room or the Cunningham Piano store; parents and siblings must wait either in the car or in the waiting area of the Healing Arts Center; we will offer FaceTime or Messenger calls for those parents who wish to hear and/or see their child's lesson. Additional protocols based on the COVID classification of Somerset, Sussex, Wicomico, and/or Worcester counties (Boones Tunes has students residing in all of these counties): HIGH or SUBSTANTIAL Community Transmission (THIS IS THE CURRENT STATUS OF ALL LOCAL COUNTIES AS OF 9/1/21)--Masks will be required for all teachers, students, and accompanying adults above the age of 2, regardless of vaccination status. Vocal lessons will be held online with the possibility of a once-a-month in-person lesson to work on accompaniments, diction, and theory. Teacher is fully vaccinated and will wear a KN95 mask or a cloth mask with filter whenever singing will be involved during group classes. Should in-person classes or lessons be suspended due to mandates, either make-up credits or an online option will be offered. MODERATE Community Transmission--Masks will be required for all unvaccinated students and accompanying adults above the age of 5. Masks will be optional for vaccinated students unless singing is involved. Vaccinated vocal students may request in-person masked lessons. Teacher is fully vaccinated and will wear a mask whenever singing will be involved and/or the students are unvaccinated. LOW Community Transmission--When our area reaches this level, the recommendations of all relevant organizations will be reviewed to determine a change in our policies. Please let us know if you would like links to articles, websites, and studies related to our guidelines, or if you have any questions or concerns. We hope to see you soon!

Welcome to Boone's Tunes of Delmarva! We are pleased that you are considering music classes and/or lessons for your child. Research has shown that we are all born with an aptitude for music, but that aptitude diminishes if it is not actively nurtured between the ages of birth and nine.
The Musikgarten classes offered at Boone's Tunes are designed to nurture the child's musical aptitude by engaging children and their families in singing and movement activities which help attune the ear, refine the voice, and develop a rhythmic body through which music can be expressed. Additionally, instrumental activities are part of the program, beginning with simple rhythm instruments such as shakers and drums for babies and toddlers, and culminating with piano studies for older children.
Musikgarten is the only program that offers curricula starting with newborns and continuing through piano instruction from age 5. It is based on a keen understanding of how children learn, in both a general sense and, specifically, how they learn music. The curriculum is based on years of expert research in child development and learning styles. No age group is left out, for Musikgarten also includes recreational adult piano classes!

Boone's Tunes is committed to providing a fun, nurturing educational environment through excellent curriculum and small class sizes of no more than 6-12 students.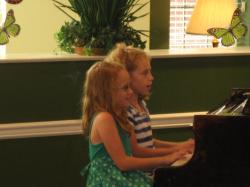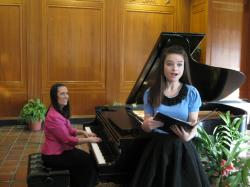 In addition to our early childhood classes, Boone's Tunes also offers more than 20 years of experience in high-quality private piano and vocal instruction, as well as a varied selection of homeschool classes and choirs.

As you familiarize yourself with our website and learn more about us, we look forward to answering your questions and to welcoming your family into our music studio!
Thank you for your interest in our musical offerings!

Sincerely,

Susan (Boone) Upton, Founder & Director of Boone's Tunes


Musikgarten Exemplary Award Recipient, 2014, 2015, 2017, 2019, & 2020
Certifications: American College of Musicians (Piano Instruction), Musikgarten (Early Childhood & Group Piano), Royal Conservatory of Music (Elementary & Intermediate Specialist, Piano & Voice)
Memberships: Chorister's Guild, National Guild of Piano Teachers, Royal Conservatory Certificate Program (Piano, Voice, & Music Theory), KITS National Music Theory Honor Roll, Salisbury-Wicomico Arts Council, Community Players of Salisbury, Salisbury Chamber Singers
Education: Goucher College, The Boston Conservatory
A sampling of Boone's Tunes' graduates: Music teacher at Pocomoke Middle School; Youth Music Minister at Chincoteague Church of God; Musical Theatre Major at Marymount Manhattan College; Dickinson College Musical Theatre graduate working as a paid director and actress in PA; Music major at Five Towns Music College; Music minor/Biology major at Randolph Macon College; Engineering major at Catholic University